The image of the two-rail fence became the illustration of his purpose. Christian tradition running parallel to the collective experience; both are held by a post "grounded in the soil of regular worship."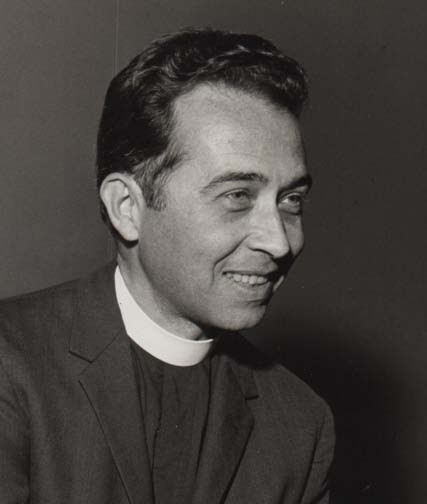 With his life and work, the Reverend Dr. Charles L. Winters endowed the University of the South with a gift that will benefit faithful clergy and laity for many years to come. Founded nearly 50 years ago, Winters' adult Christian education program, Education for Ministry (EfM), educates thousands of lay Christians across the globe every year. Charles L. Winters died on May 17, 2022 in Asheville, North Carolina and is survived by his loving family and over 120,000 EfM participants.
With an in-depth study of scripture, reason, and tradition, Winters explored reading scripture through the language of metaphor and theological reflection. The well-known image of the two-rail fence, crafted with colleagues Malcom Knowles and Ted Ward, became the illustration of his purpose. Christian tradition runs parallel to the collective experience. Both are held by a post, "grounded in the soil of regular worship."
Charles Winters began gathering the materials needed for fence building as a young adult in the early 1940s, with WWII claiming friends and colleagues. Perhaps it was his own calling to the ministry that began his desire to mend a broken world, but whatever his early motivations were, Winters sought education as the rails on which to join experience and reflection. Earning his Bachelor of Arts Degree from Brown University, Winters also answered the call to serve his country through the Navy ROTC program. Upon graduation, Winters was sent to learn the Japanese language at Oklahoma A&M (now Oklahoma State University). There, Winters not only learned Japanese, but also met his adventuresome wife, Bette—the first female pilot in her home state of Colorado.
At the close of the war, the young married couple traveled to Virginia where Charles earned his Bachelor of Divinity Degree from Virginia Theological Seminary and was ordained to the priesthood in 1949. After, having served briefly as an assistant at St. George's Episcopal Church in Arlington, the couple moved to New York. Winters completed his S.T.M at Union Theological Seminary in 1950 studying under Reinhold Niebuhr and Paul Tillich. While working on his doctorate, Winters was called to serve in parish ministry and moved to his hometown of Saunderstown, Rhode Island.
He would not return to New York until 1952 where he began his teaching career at General Theological Seminary. By 1954, serving as professor of systematic theology, his friend Henry Myers invited Winters to the School of Theology at the University of the South to fill one of the many posts left vacant in 1953, when all but one faculty member resigned in protest of the decision by the University not to admit Black students to the seminary. It was a time when old fences needed to be torn down before the mending of Jim Crow era damage could begin. Winters took this call seriously, eschewing the status quo and advocating hard for equal civil rights and especially the integration of the local elementary school in Sewanee.
One of the things that son, Tony Winters, recollects vividly is his father tinkering with anything he could get his hands on. "He had a life-long passion for science and technology and was interested in reconciling Christian theology to modern physics," states Winters' son. His passion for gadgets led him to install an early version air conditioner into his car so he could carry Christian theology down the mountain into "tiny towns as a circuit rider serving little parishes."
While teaching systematic theology at the University and training seminarians to lead large parishes, Winters realized the crucial need for an educated laity. "Dad would comment on how so many small towns had great parishes with smart people who could lead but hadn't had the training in ministry."
In 1974, Winters took a sabbatical to study adult Christian education. During this time, Winters traveled to Native American reservations in the west and Alaska while studying the work of Malcom Knowles. Observing poor communities that could not hire full time clergy clarified his vision of educating laity. Inspired by the work of Knowles, Winters began systematically making theology accessible to all—an endeavor at which he was truly gifted. Winters had the principles of education and theology firmly under his belt, but it was the collaboration with Flower Ross that provided the vision for Winters' programming—education and theology brought to life by reflection. The two-rail fence was ready to be built. Yet, he first needed to dig the hole deep before laying plumb his first post.
With the help of the School of Theology's very supportive dean, Urban Holmes, and the University's Vice-Chancellor, Bob Ayres, Winters was granted the resources needed to make the program sustainable and began forming seminar groups in several of the University's constituent dioceses. He also shared his curriculum abroad, traveling to Australia, New Zealand and the U.K. The popularity of Winters' programming revealed a wide-spread, yet still-latent appetite for lay Christian education. Endeavoring to meet this need, Winters proceeded to build his two-rail fence, connecting the world in Anglican parishes. Interconnection indeed became the hallmark of Winter's programming: a two-rail fence, accessible to all, where personal experience runs parallel to reflection. The entire construct is nailed deep in theology by education and planted in the good soil of worshiping a loving and inclusive God.
"Charles was a visionary and a leader who built the program from the ground up. I am grateful to have had the opportunity to work with him," says John de Beer, co-author, with Patricia O'Connell Killen, of The Art of Theological Reflection, who worked with Winters in the early days of expanding the EfM program's reach. Director of EfM Canada, Catherine Hall recalls interviewing Winters in 2003 as she was writing her doctoral dissertation. "One story I remember quite vividly arose out of his passion for lay education and his opposition to the idea that clergy and laity had a great gulf fixed between them. He told of being approached after a lecture by a theolog who asked him how he would teach that concept to a lay person. Charlie's response was succinct, 'I just did.'"
"The program Charles Winters created is still at the very core of the EfM curriculum today," says Karen M. Meridith, Executive Director of Education for Ministry. "The work done in our seminar groups in 90 Episcopal dioceses and five provinces of the Anglican Communion still is centered in theological reflection that brings deep study of the Christian tradition into conversation with the whole of our lives—grounded in worship and prayer, preparing us to listen for God's call to minister to a broken world."
"Charles Winters once told me that it had initially been his dream to enroll 2,000 participants," shares Meridith. "Now approaching its 48th anniversary, EfM enrolls some 5,000 participants each year and is recognized for its depth and effectiveness in nurturing the ministry of all the Baptized. If that's not a testament to Winters' vision and his deep faith in lay leadership, I don't know what is." In 2007, the University of the South recognized Winters' lasting contribution with an Honorary Doctorate degree.
The Reverend Dr. Charles L. Winters is survived by his daughter, Karen Winters Vaught, son in-law James Vaught, and son, Charles Anthony Winters, daughter in-law Helen Winters, and grandsons James Brown Vaught III and Charles William Winters Vaught, as well as the more than 120,000 people who have enrolled in EfM to date, and the thousands more that will enroll in years to come.
A Funeral and Memorial Service will be held at 2:00 p.m. on July 24, 2022, at the Cathedral of All Souls in Asheville North Carolina.