"Our vision of the future of The Episcopal Church is a multiethnic, multilingual, multicultural, and multigenerational Church that ministers to the world in which we live today," says the Rev. Canon Anthony Guillén.
Now more than ever, he sees a wide-open opportunity for The Episcopal Church to achieve that vision. As Director of Ethnic Ministries and Missioner for Latino/Hispanic Ministries for the Church, Guillén calls for a broader view of Latino ministry. Some churches focus exclusively on Spanish-language outreach, while others feel impeded by a language barrier; but Guillén says churches should expand their definition of Latino ministry by expanding their ideas of what it means to be Latino.
As immigration decreases and more generations of Latinos are born in the United States, young Latinos are increasingly an English-speaking demographic. "Two thirds of Latinos are bilingual and bicultural," Guillén says. "Of the 62 million U.S. Americans who identify as Latinos, 40 million speak English as their primary language. Yet most Episcopalians do not invite us to church. They make assumptions about who we are and the language we speak."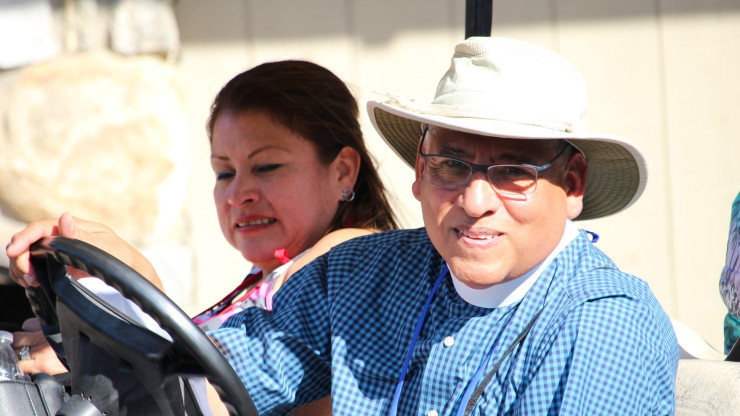 Guillén serves as a driver during the Nuevo Amanecer (New Dawn) conference held at Kanuga Episcopal Center in Hendersonville, North Carolina
Photo Credit: Francisca Rios
For example, many people assume Latinos are committed to the Roman Catholic Church; however, the percentage of Latinos who identify as practicing no religion at all has risen from 5% to 26% since Guillén joined Ethnic Ministries in 2005. "Essentially, one quarter of Latinos have just dropped out," he says. "In the United States, Latino families who have immigrated become secular by the third or fourth generation if no one reaches out to them."
Unlike other cultural groups who have assimilated after immigrating, Guillén points out that many of today's Latinos continue to value the traditions of parents and grandparents. "They respect and attend festivals and celebrations—baptism, marriage, first communion," he says. "They believe in God and they connect to spirituality. They are not non-believers, but they have checked out of church. So, they do not need to be convinced about God; they just need to be invited into community." This is very good news. "In fact, it is a task we can do easily," says Guillén.
Guillén in New York City Participating in the 'Ashes to Go' program
Photo Credit: Chris Sikkema
A growing, youthful demographic
Guillén says colleges and universities provide an excellent opportunity to reach young Latinos—an opportunity not missed by Evangelical churches, who are present on nearly every campus and attracting Latino students through intentional outreach and upbeat, contemporary bilingual worship. While overall undergraduate enrollment has seen a steady decline since 2010, Latino enrollment has increased by 48%. Currently, 19.4% of college students identify as Latino or Hispanic, making them the largest minority demographic on college campuses.
Dioceses once invested heavily in Canterbury Houses and campus ministry programs. "At one time, Episcopalians were much more visible on college campuses," Guillén says, and some individual churches have sought to fill the gaps left by waning diocesan programs. Through an increase in university satellite campuses in small and mid-sized towns—essentially a decentralization of traditional, large campus life— it has become easier for smaller parishes to engage directly with this growing Latino demographic over a wider geography. "Parishes can roll out the red carpet for Latino college students," Guillén says. "It's easy to invite Latinos into the community of faith—but not if you're not there." To this end, Guillén encourages congregations to create campus ministry programs, perhaps in partnership with other Episcopal or Lutheran churches.
Preparing lay and ordained Episcopal leaders for ministry
The Office of Latino/Hispanic Ministries offers many programs to form lay and ordained leaders for Latino/Hispanic ministry. One such offering is the eight-day intensive Episcopal Latino Ministry Competency (ELMC) Course. Developed by the Office of Latino/Hispanic Ministries for diocesan staff, clergy, lay leaders, and seminarians, the course is jointly sponsored by The Episcopal Church and host seminaries. The School of Theology serves as an anchor institution for the program, having partnered with the program since 2018.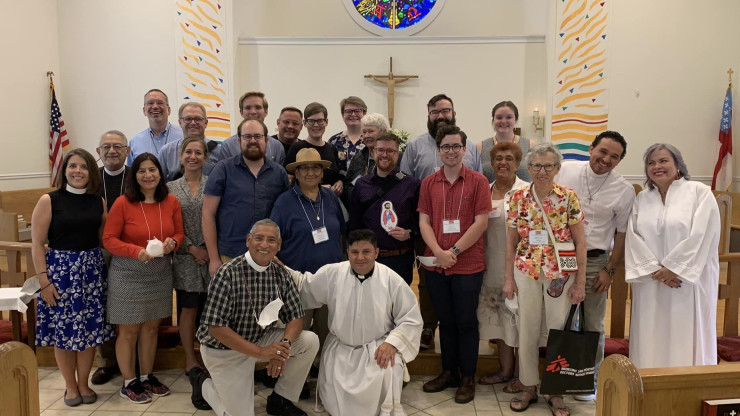 ELMC Course students pose at St. Edward's Episcopal Church in Lawrenceville, Georgia
The ELMC Course is taught at seminaries by faculty, clergy, and lay leaders with extensive experience in Latino and multicultural ministry. Conducted in English, the classes help students explore different types of Latino/Hispanic ministry and discern how their congregation is called to serve in their own context.
The Rev. Leigh Preston, who is Instructor in Pastoral Spanish and Latino/Hispanic Ministry at the School of Theology, works closely with Guillén on ELMC and other initiatives. Preston explains that there is no universal approach to Latino or any other ministry. Every community is different, and learning about the demographics in your community is a critical first step, Preston explains. "Then it's about finding ways to engage. It's about listening carefully and building relationships first, and then joining in ministry together." The purpose of the ELMC Course is to prepare church leaders to do that in a Latino context. Alumni of the program, however, report much of the course content to be transferable. "I see it in the course evaluations," says Preston. "Much of what students learn can also be applied to ministries in other cultural contexts."
A recent Fellow-in-Residence at the School of Theology, Guillén is a longtime friend and supporter of the School. Guillén describes the School's participation in the Latino mission as "consistent engagement," citing course offerings for interested seminarians. Pastoral Spanish courses help students gain linguistic proficiency, and other electives address themes in Latino theology, models of Latino ministry, and liturgical celebrations in Latino contexts. Guillén notes that there is a shortage of Latino clergy to serve in this fastest-growing segment of The Episcopal Church. He says, "Preparing our Anglo siblings to take on this vital ministry is urgent. Thankfully, the School of Theology and some other seminaries are stepping up to fill this huge gap."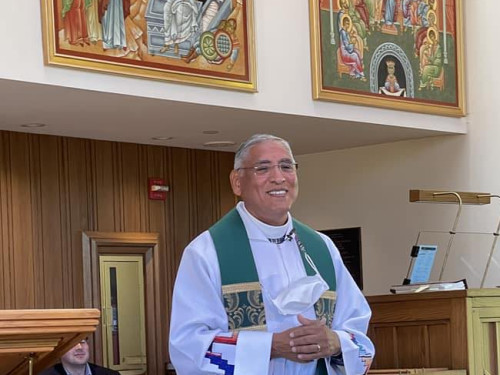 Guillén preaches in the Chapel of the Apostles at the School of Theology during bilingual Spanish-English Holy Eucharist
Photo Credit: Mary Crist
Guillén summarizes, "At the School of Theology a seminarian can learn Spanish and then worship in Spanish. Students have an opportunity to preach and preside in Spanish right here in the chapel. They are learning about Latino ministry at a school that partners with us in the ELMC Course. All these things bring joy to my heart. It says that the School of Theology takes Latino ministry seriously, and wants to do its part to make The Episcopal Church that multiethnic, multilingual, multicultural, and multigenerational community in Christ."

By Jeannie Babb, T'12, T'13
*Title Photo Credit: Millard Cook