The School of Theology provides a robust and diverse opportunity for students to engage in contextual education as a part of their learning experience. Field Education and Clinical Pastoral Education (CPE) are significant milestones where students apply the knowledge they gain in the classroom to real world situations outside of the Domain. The 2020 COVID-19 pandemic disrupted their traditional learning experience. The Rev. David Cobb, director of contextual education for the School of Theology, and five seminarians shared their expectations, adjustments, and learning outcomes from the summer of Covid-19.
Traditionally, seminarians temporarily relocate or regularly travel to work and learn in parishes and hospitals. They get a chance to walk into a situation as a person in a leadership role. In these situations, seminarians experience verbal and non-verbal communication with people who see them as a leader. This is especially true in CPE. "Seminarians learn a great deal about themselves by being 'present' in the field," Cobb explained. Students also gain a mentor by way of their field education placement.
When the pandemic drastically impacted Americans in March 2020, the School of Theology had to consider alternative avenues of contextual education. Despite the limitations on travel and in-person practice, however, the pandemic created an opportunity for seminarians to engage with a broader region of the United States without traveling and incurring costs associated with temporary housing. Video conferencing facilitated Bible studies, mentorship, and learning across time zones. When seminaries did travel to engage in-person, they experienced leadership "on the front lines" in a genuine crisis. They learned how to navigate in the "world we are in" as opposed to how it should or could be.
While the pandemic created a novel learning experience for seminarians, many aspects of the traditional contextual education were unavoidably absent. Cobb explained that the greatest loss was "accidental, unplanned learning—serendipitous learning—that happens through conversation and reflection after students complete a task with their mentor. Scheduled learning reduced the casual conversations that facilitate serendipitous learning. Seminarians are also unable to gain experience with learning how to read people and assess situations. Another unfortunate loss is not to the seminarians, but to the parishes in which they learn. Seminarians bring an outsiders' perspective that helps parishes learn about themselves.
Marie Smith, T'21, began her field education working at St. Matthew's Episcopal Church in Madison, Alabama, before the pandemic hit. Once it was clear no one could return to the field, Marie reached out to her mentor to discuss options in order to stay active. Her virtual participation included a Lenten book study, pre-recorded sermons, and reflections for the virtual services. Upon returning home for the summer, Smith also assisted with workshops and virtual services at three parishes around her hometown. Services ranged from small outdoor sessions to virtual workshops. Smith expressed that, "each opportunity gave me valuable insight into how worship is changing in the face of the pandemic and how flexible we need to be in order to meet the challenge".
Gabriel Perkins-Lawrence, T'22, worked for the Episcopal sponsored non-profit, First Stop in Huntsville, Alabama, along with a few peers. This CPE experience was non-traditional as it was not in a traditional hospital setting. He ministered and was "present" for those experiencing homelessness during a crisis. He also co-facilitated a book study in which STEM parishioners had a space to think theologically while processing grief, fear, and other emotions associated with the pandemic and social injustices. As Perkins-Lawrence explains, "I am grateful, even in the midst of this summer marked by the pandemic and social unrest in response to racial injustice, to have been given this opportunity to learn and grow even deeper into the ministry to which I am called." Perkins-Lawrence will resume CPE next summer.

Ashley Simpson's, T'22, plans for CPE changed from the expectation of doing chaplaincy work in a hospital to having no expectations other than knowing she needed to help. When programs in North Carolina and Kentucky were no longer an option, Simpson divided her time between Hamilton Medical Center and First Stop. Simpson reflected, "when you leave yourself open to the possibilities of pandemic chaplaincy, I don't know if you can consider anything a failure. You do the best you can under the circumstances and you consider everything a win. I will say that some of the successes I have experienced is my ability to be flexible and an increase in my level of confidence."
The effects of COVID also hindered Shari Harrison's, T'22, plans for CPE but did not prevent invaluable, novel experiences. Like some of her peers, Harrison counseled individuals and families who experienced homelessness. She reached out to quarantined parishioners through letters and phone calls and eventually completed 50 hours of on-boarding to serve as an on-call chaplain at Hamilton Medical Center. "While I loved the hospital work, I treasure the pastoral relationships I developed with those in other settings, says Harrison. "Being a pastoral presence for victims of abuse, both physical and emotional, those who are in recovery from narcotics and alcohol abuse, and those who were caring for dying loved ones offered a unique opportunity. These experiences provided an understanding of pastoral care and counseling that I may have missed had I limited my training to the hospital. If I could do it over, I would not change a thing. In my case, the adaptation was better than the original plan."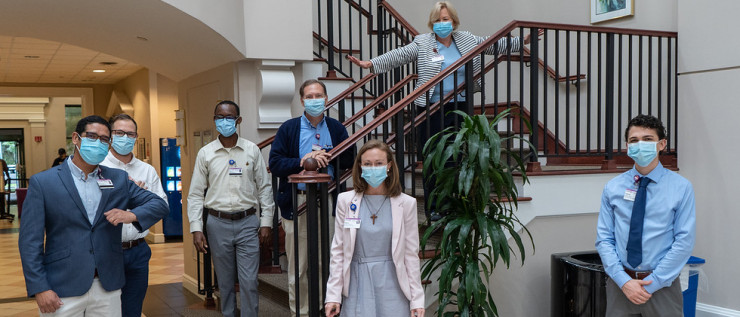 Becca Walton, T'22, began her CPE program on schedule at Roper St. Francis Healthcare in Charleston, South Carolina, while many programs were canceled. Walton's experience continually evolved over the summer as the number of COVID-19 cases increased in the area. By mid-July, her course work, presenting verbatims, and book discussions moved to video conferencing. Clinicals continued in the hospital with the addition of tele-chaplaincy ministry to Covid-19 patients and their families. "Tele-chaplaincy has been a challenge for me," says Walton. "I'm far more comfortable doing in-person visits where I can see facial expressions and body language, and I'm normally comfortable with silence and holding space for people. But I do think it's important that we minister to patients and their families however we can." (Pictured above, Becca Walton and her CPE co-hort; photo credit–Joan Perry)
In a world altered by a pandemic, strategic planning and creative responses were needed. While student experiences outside of the classroom are vital to their education and ministry, ensuring their safety and that of others, was the priority. Towards the end of the summer, Cobb reports that participating seminarians felt confident in the safety protocols they used during their training. For the next cycle, Cobb hopes that contextual education will resume as normal. But the skills these students learned this summer—how to engage and minister in the "virtual" world—will benefit them in countless ways as we move forward to meet the ongoing challenges.