"If we do not care for the earth by protecting the creation, our life is in danger and the future is uncertain."
This is the urgent message that the Rev. Simion Kinono, T' 21, aimed to impress upon fellow residents of Ngozi, Burundi, as he developed a three-day training on environmental protection to deliver there.
Kinono notes that the 31 church and government leaders who attended the training—which was held in March and opened by the Most Rev. Sixbert Macumi, Archbishop of the Anglican Church of Burundi and the Diocese of Buye—ultimately needed no convincing. Erosion produced by severe flooding and drought has created massive ditches in populated areas of the city. In the week before Kinono's event, one of these ditches claimed the life of an 8 year old. "We can see the consequences of climate change here," Kinono says. "We can see there is a problem."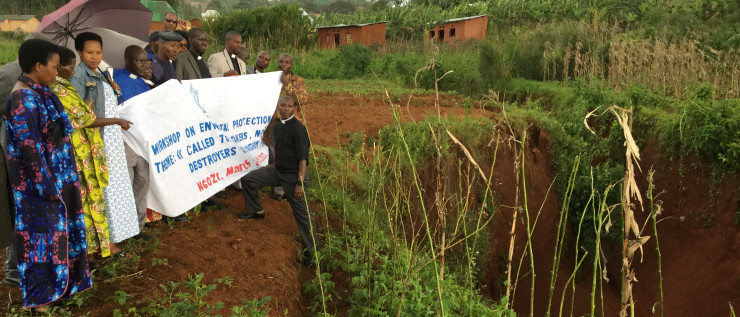 An eroded ditch similar to the one that claimed the life of an 8 year-old boy.
In Kinono's view, one solution to the problem is reforestation. Long before he conceptualized the training, he led multiple tree-planting projects in northern Burundi. He currently oversees an expanse of nursery beds in Ngozi, and, as finances become available, he hopes to plant more than 100,000 trees before the end of the year—both by transferring trees to nearby communities and by planting directly at environmentally degraded sites.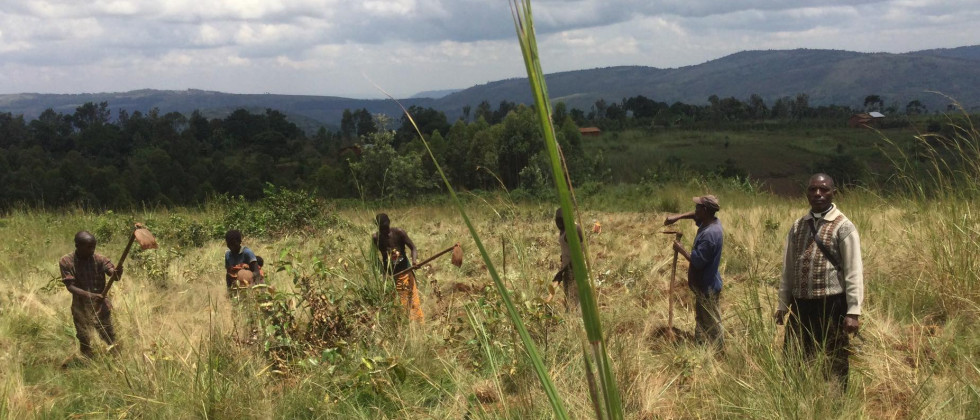 The Rev. Kinono with volunteers at A reforestation site in northern Burundi.
Kinono's training event took root at the University of the South, as he attended Dr. Andrew Thompson's environmental ethics class in 2020. Thompson has a long-standing scholarly focus on creation care and was recently named as Director of the University's Center for Religion and Environment. "The class opened my mind on how I can work with my fellow Burundians," Kinono says. When he returned to Burundi, he explains, he continued studying several of the articles that Thompson had assigned. In particular, he was moved by an article written by Pope Francis, which asserts the necessity of combating climate change and stresses creation care as a moral imperative. Pope Francis's namesake, St. Francis, is the patron saint of ecology.
After reflecting on the readings, Kinono shared his environmental concerns and ideas with Archbishop Sixbert. With his bishop's support, he then reached out to Thompson and to Dr. Deborah McGrath, Professor of Biology and Assistant Dean of the Environment at Sewanee, seeking their assistance in moving from climate theory to action. McGrath and Thompson worked with Kinono to develop an environmental education curriculum, and McGrath took the lead in securing grant funding for the project. With all of the groundwork in place, Kinono was ready to launch his plan.
In recruiting attendees, Kinono tried to bring together Burundians from many sectors and socioeconomic backgrounds. "I thought, 'Everyone is accountable [for protecting the environment]," he notes. "If we destroy the environment, we destroy ourselves. So, I called upon priests, people from the administration, police officers, people from different churches…all kinds of people." During his earlier reforestation work, Kinono had already cultivated relationships with many community leaders, so, he says, it wasn't difficult to get them on board.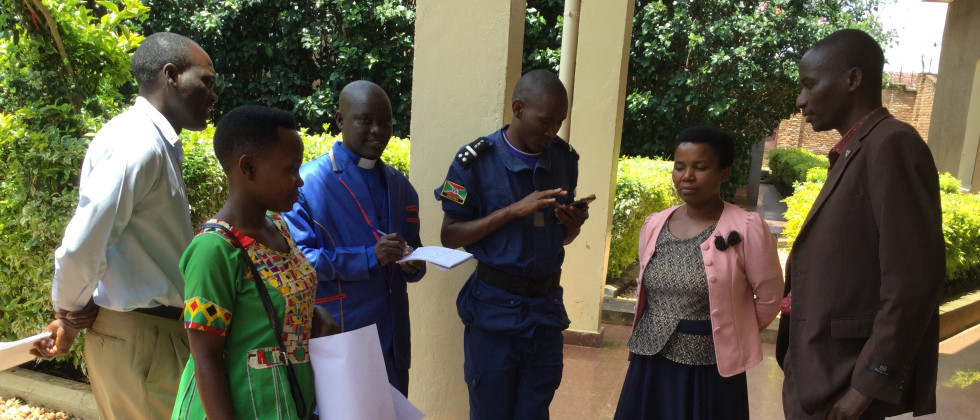 Environmental Protection Workshop participants in Ngozi, Burundi
On March 28, 2022, 31 training participants gathered in the conference hall of a Ngozi hotel. Archbishop Sixbert provided opening remarks, drawing from a verse in the Book of Genesis about man's responsibility to tend to the Garden of Eden. After this introduction, each day of the event followed a similar structure: mornings were devoted to presentations by local leaders involved in environmental projects, and afternoons were largely spent visiting sites in Ngozi that have been particularly damaged by erosion and pollution. Kinono explains that heaping piles of trash in public areas have led to disease and jeopardized food and water quality. Burundi's government has organized an initiative called Project Ewe Burundi Urambaye (Let's Cover Burundi) to address this issue and other environmental challenges.
With a cooperative government and motivated population, Kinono is optimistic that Burundi can make environmental progress. During the training, participants brainstormed a series of action steps including, not only planting trees but also creating contour lines on hilly lands to direct rainwater, designating specific areas for waste disposal, and encouraging residents to reduce water pollution and erosion issues by installing septic tanks. Kinono points out that all of these efforts will require funding, but he is determined to find pathways. Kinono now heads the Department of Environmental Protection in the Diocese of Buye, and he regularly visits parishes to educate congregations about environmental safeguarding. "I talk about climate change," he says, "and how, as people of God, we are called to protect God's creation."
School of Theology alumni who want to learn more about Kinono's work will get the opportunity at this year's Alumni Lectures and Homecoming. He and Thompson will co-lead a workshop titled "Churches on the Front Lines of Climate Change."
Thompson notes that he and McGrath have found the process of collaborating with Kinono deeply rewarding. Kinono asserts that the benefits have been mutual. "I am proud of my professor," he says, "and how he taught me to move from theory to practice."