A brief gathering in All Saints' Chapel will observe the "Leave-Taking" of the 16th vice-chancellor of the University of the South. The service will be held at 1:30 p.m. Tuesday, June 16, in All Saints' Chapel. Due to restrictions on public gatherings necessitated by the COVID-19 pandemic, attendance will be limited to invited guests only and the service will be livestreamed for the community.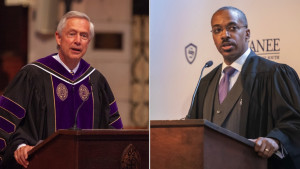 After 10 years of service as the university's 16th vice-chancellor, John M. McCardell Jr. will assume his new role on June 17 as vice-chancellor emeritus and a member of the college faculty as professor of history. On the same day, Reuben E. Brigety II will begin his work as Sewanee's 17th vice-chancellor.
During the June 16 service, McCardell will make farewell remarks, which will be followed by short prayers and a hymn. The service will also recognize the Rt. Rev. J. Neil Alexander, vice president and dean of the School of Theology, and the Very Rev. Thomas E. Macfie Jr., University chaplain and dean of All Saints' Chapel, who are stepping down from those roles. Alexander will return following a sabbatical to teach at the School of Theology. The new dean of the School of Theology, the Rev. Canon James Turrell, Ph.D., and the new University chaplain, the Rev. Peter Gray, will be introduced, along with Vice-Chancellor-Elect Brigety.
Brigety, former dean of the Elliott School of International Affairs at The George Washington University and former U.S. ambassador to the African Union, was elected the 17th vice-chancellor in February. He will begin his first day in office with a special sunrise Morning Prayer service at 7 a.m. on Wednesday, June 17, followed by remarks to the Sewanee community at 1 p.m.