On May 16, the School of Theology held its 164th Convocation for the Conferring of Degrees. This year the ceremony was held outdoors on Hardee-McGee Field without masks due to the easing of the Covid-19 restrictions. For the first time the School's choir was able to sing unmasked and together. Families and friends of the graduates were invited to attend in-person this year. The University Chancellor Bishop Robert Skirving, Diocese of East Carolina, preached as the sun shown on the stadium. There was much to celebrate!
The School of Theology holds several events leading up to a Convocation for the Conferring of Degrees. In the weeks prior, senior awards were presented at the semester's final Eucharist service and the Children's Crossing service was held for the families of the seminary community. It all culminated on Sunday with the seminary graduating 26 students receiving varying degrees from Vice-Chancellor Reuben Brigety. Many of the University's leadership was in attendance, among them were the Chancellor Robert Skirving, University provost Nancy Berner, University Chaplain Peter Gray, and the School's Dean, the Very Rev. James F. Turrell.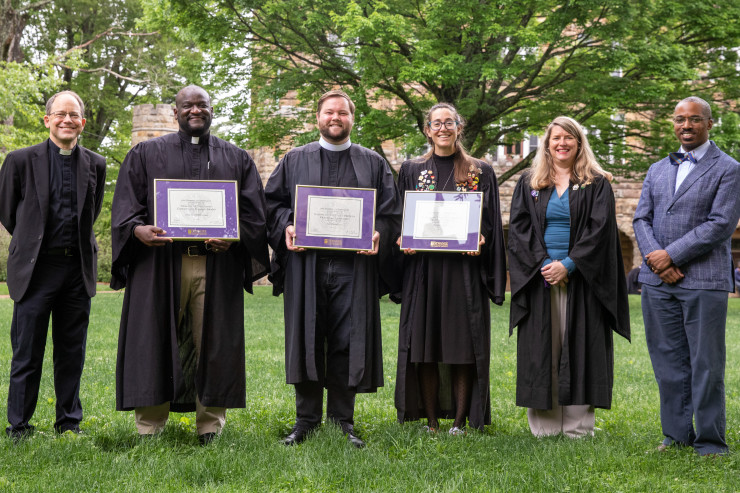 During the Wednesday community Eucharist on May 5, Turrell and Brigety recognized some of the outstanding achievements by the graduating class. This year's prizes were announced and presented to the following seniors:
Episcopal Preaching Foundation Prize in Preaching Excellence—Lathrop Mosley
School of Theology Prize in Biblical Studies—Rachel Eskite
School of Theology Prize in Practical Theology—Ted Clarkson
School of Theology Community Service Award—Malcolm McLaurin

Awards previously given to members of the class of 2021 included:
The Woods Leadership Award is presented to a member of the junior class who has most successfully taken the initiative in assuming a leadership role in the class. Rachel Eskite received this award.
Ted Clarkson received the Freeman Award for Merit, established by the Rev. Reed H. Freeman and his wife, Nancy. It is awarded to a rising middler who has demonstrated outstanding academic performance and promise in the junior year.
The William A. Griffin Scholarships are given each year to enable students to study in the Holy Land. The fund was established to celebrate the ministry of William A. Griffin, former professor of Old Testament at the School of Theology from 1959–1988, and was endowed by Professor Griffin's wife, Anne Griffin, and her daughter, Shore Griffin, and other donors. Seniors Catherine Ballinger, Keith Davis, Rachel Eskite, Elizabeth Grohowski, and Lathrop Mosley received these scholarships.
Photos of the convocation may be viewed
here:
https://www.flickr.com/photos/theologysewanee/albums/72157719207894568
A recording of commencement can be viewed here: https://vimeo.com/549848140?fbclid=IwAR0InOQxIGscQoDwlbd69CBYAoowEGhT3qomc59eP1rcDQG5cwTp2E4GD5Q
The following is a list of the 2021 graduates of the School of Theology.
| | |
| --- | --- |
| Simeon Bruce | CTS |
| Jessica Harris Babcock | DMIN |
| Elise Beaumont Johnstone | DMIN |
| Shelby Lynn Bowles | MA |
| Dominique Ciza | MA |
| Simion Kinono | MA |
| Shadreck Francis Chithil Kwagwanji | MA |
| Judith Lindsey Marklin | MA |
| Taylor Palfrey McCutcheon | MA |
| Catherine Ann Ballinger | MDIV |
| David Emory Boyd III | MDIV |
| Ted Hamby Clarkson Jr. | MDIV |
| Mercedes McDaniel Clements | MDIV |
| Benjamin Paul Cowgill | MDIV |
| Keith Ardie Davis | MDIV |
| Rachel Christine Bauer Eskite | MDIV |
| Elizabeth Grohowski | MDIV |
| Malcolm McLaurin | MDIV |
| Lathrop Hart Mosley | MDIV |
| Allison Carol Reid | MDIV |
| Marcella Drawdy Robinson | MDIV |
| Andrew Cordell Sloan | MDIV |
| Rebecca Marie Smith | MDIV |
| Teresa Wooten Daily | STM |
| Jean Berchmans Mweningoma | STM |
| Emily Louise Zimbrick-Rogers | STM |