On May 6, the School of Theology held its 165th Convocation for the Conferring of Degrees. This year the ceremony was held in the University's All Saints' Chapel. The seminary graduated 28 students receiving varying degrees from Acting Vice-Chancellor Nancy Berner. Many of the University's leadership was in attendance including the University Chancellor Robert Skirving, bishop of the Diocese of East Carolina; University provost Scott Wilson; and the School's Dean, the Very Rev. James F. Turrell.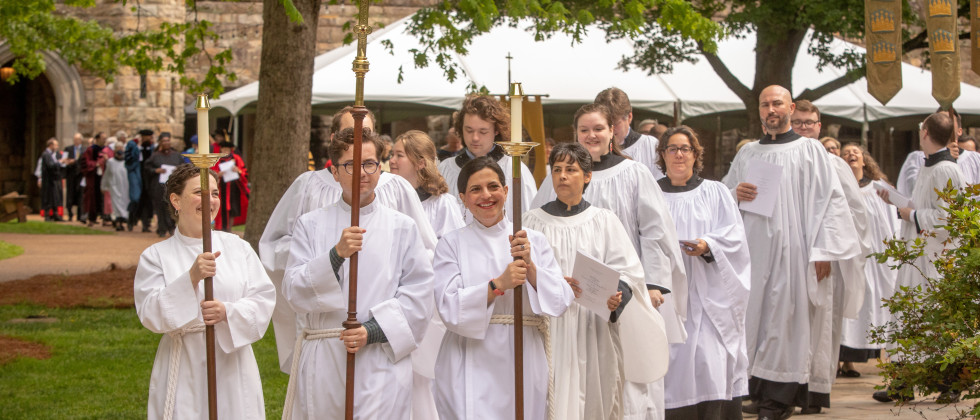 Photos of the service and pre- and post-events may be found here.
A recording of the commencement service can be viewed here.


Honorary Degree
An honorary degree was bestowed on the Rt. Rev. Glenda Curry, who will also preach at the commencement service.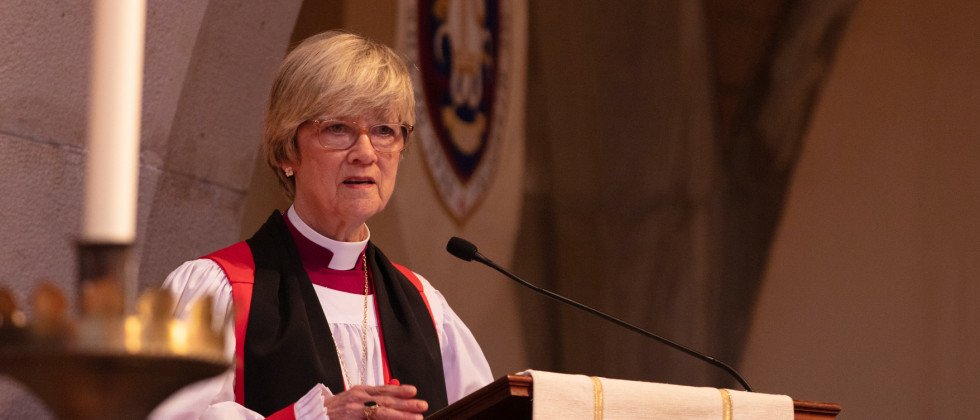 The Rt. Rev. Glenda Curry was seated as bishop on Jan. 9, 2021, making Curry the first woman elected bishop in the Episcopal Diocese of Alabama. Curry served as rector of All Saints Episcopal Church, Birmingham, Alabama. She also served as the rector of Epiphany Episcopal Church, Leeds, Alabama. Prior to her ordination, she was president of Troy State University in Montgomery. She received her master of divinity from the School of Theology, University of the South, in 2002.


2022 Graduates of the School of Theology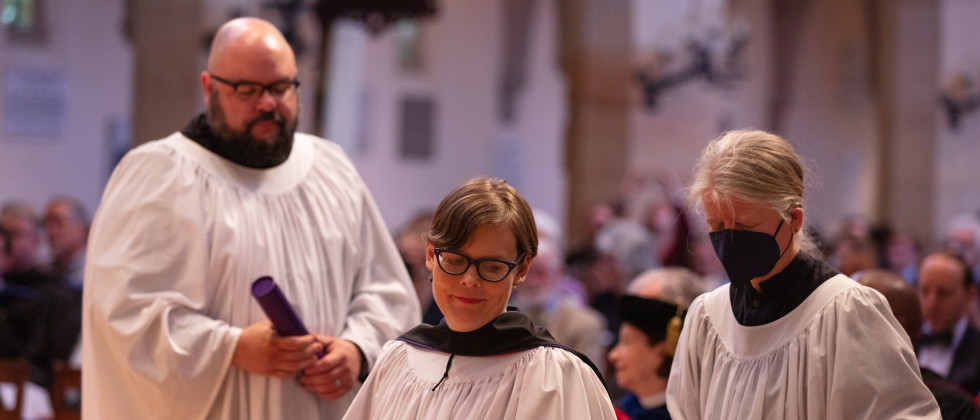 Doctor of Ministry

William Rian Adams
Davis M. Bailey
Jason Daniel Emerson
Marcus G. Halley
Kevin Larry Morris
Master of Arts
Cade Alexander Archer
Joshua David Booher
James Franklin Lowe
Casey Andrew Perkins
Gregory Scott West
Master of Divinity
Robert Carlton Delvin
Thomas Charlton Drake IV
Isabel Roberts Geller
Michael Sean Harber
Shari Bishop Harrison
Sarah Elizabeth Hess
Mark Andrew Lobb
Meghan Joanna Mazur, Optime Merens
Charles David McClain
Adam Wade Nygren
Gabriel Michael Lawrence
Derek James Quinn
Christopher L. Schwenk, Optime Merens
Ashley Danielle Simpson
Ethan Gerald Whitfiel Stroud
Taylor Davis Vines
Rebecca Gail Walton
Ian Grey Williams
End of Year Community Lunch

The School of Theology holds several events leading up to a Convocation for the Conferring of Degrees, including the senior awards, presented following the semester's final Eucharist service at the community lunch held in Cravens Hall.
During the community lunch on April 20, Turrell and Berner recognized some of the outstanding achievements by the graduating class and announced the senior prizes. Turrell began by recognizing many of the people who served the School in various ways during this past year.
Student Body President—Meghan Joanna Mazur
Senior Class Representative—Taylor Davis Vines
Student Trustee to the University Board of Trustees— Mike Harber
Sacristans have a central role, often unheralded, in the worship life of the seminary community and we are all dependent on their fulfilling their responsibilities well. Turrell took a moment to recognize the members of the senior class who served as sacristans.
Rebecca Walton, Head Sacristan
Michael Sean Harber
Adam Lee Dawkins
Shari B. Harrison
Awards that had previously been awarded included:
Woods Leadership Award
Ashley Danielle Simpson—The Woods Leadership Award is presented to a member of the middler class who has most successfully taken the initiative in assuming a leadership role in the class.
Freeman Award for Merit
Christopher Lee Schwenk—The Freeman Award for Merit was established by the Rev. Reed H. Freeman and his wife Nancy. It is awarded to a rising Middler who has demonstrated outstanding academic performance and promise in the junior year.


2022 Senior Prizes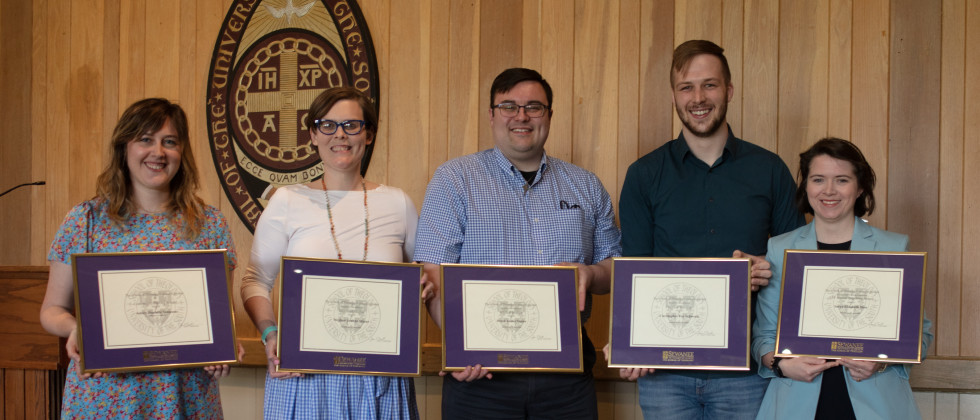 This year's School of Theology prizes were announced and presented to the following seniors:
Episcopal Preaching Foundation Prize in Preaching Excellence—Sarah Elizabeth Hess
School of Theology Prize in Biblical Studies - Derek James Quinn
School of Theology Prize in Historical Studies - Meghan Joanna Mazur
School of Theology Prize in Practical Theology - Christopher Lee Schwenck
School of Theology Community Service Award - Ashley Danielle Simpson


2022 Class Gift
In conclusion, the senior class gift was presented by Meghan Mazur.
"In discussions about what to give as our senior gift for the class of T'22, it came to our attention that there was a graduation requirement that sometimes placed an unfair financial burden on some of our classmates, in particular with the M.A. students. This requirement involves purchasing a specialized hood as part of the graduation academic regalia. To that end, the class of '22 has decided to purchase M.A. hoods for the School of Theology to keep on hand for students who are not able or who do not wish to purchase their own hood. We hope this will be a small way we can honor our M.A. classmates who are such valuable members of our community, but who do not always receive the recognition they deserve. On behalf of the Class of 2022, I hope this gift will serve the School of Theology well in coming years."