B.A. in Organ Performance and Sacred Music, Lenoir-Rhyne College; M.M. in Organ Performance, Yale University; M.M.A. in Organ Performance, Yale University; D.M.A. in Organ Performance, Yale University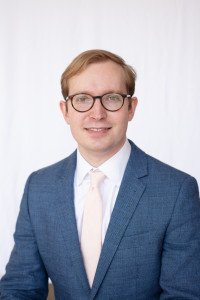 Growing up Lutheran, which for me meant singing chorales in the living room, I experienced music as, in Martin Luther's phrase, "theology's handmaid." For Christians, music is not simply a liturgical decoration, but an integral part of our identity; the Prayer Book and the Hymnal are inseparable partners. Here at Sewanee, I hope to build on a tradition of strong music-making by helping clergy and lay leaders develop discerning ears and willing voices, both through classroom teaching and daily chapel service.
Kenneth Miller is the School of Theology instructor in church music and serves as organist and director of choirs for the School of Theology's Chapel of the Apostles. Before coming to Sewanee, he worked as associate organist-choirmaster at Trinity Episcopal Cathedral in Columbia, South Carolina, and as instructor of organ at the University of South Carolina. He studied organ and church music at Lenoir-Rhyne University, where his principal teachers were Florence Jowers and Paul Weber, and the Yale School of Music and Institute of Sacred Music, with Martin Jean and Thomas Murray.
At Yale, he received the Charles Ives Prize for musicianship and the Aidan Kavanagh Achievement Prize for his thesis, which deals with the development of open score notation in 17th-century Germany. He maintains an active schedule as a choral accompanist, continuo player, and solo recitalist, specializing in the late-Romantic repertoire (particularly Max Reger and Franz Schmidt) and the large-scale cycles of J. S. Bach (most recently, several performances of The Art of Fugue).


Research Interests
Hymnody

Composition

Choral Music

J. S. Bach

Music of the Reformation

Parish/Pastoral Ministry
Miller began work as a parish musician at age 12, and has served a variety of congregations (Methodist, Lutheran, Presbyterian, Episcopal), including St. Philip's Cathedral in Atlanta, Georgia, and Trinity Cathedral in Columbia, South Carolina.